Dr. Gene Shenker Physical Therapist NYC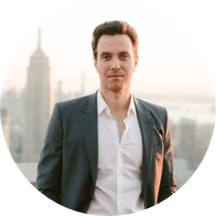 Clinic Director of Gramercy Physical Therapy PC.
Gene is a board-certified and New York State licensed Physical Therapist, with post-graduate training in Spinal Mobilization therapy. After 8 years of working at Mount Sinai Beth Israel, Dr. Shenker wanted to take his personal experience and dedication to his profession to a place that allows a full expression of his vision. He dedicated the past 10 years of his career working in Gramercy Physical Therapy, where manual therapy, individualized treatments in private rooms, and talented clinicians, are the pinnacles of the practice's quality and success. Dr. Shenker and his colleagues go above and beyond to ensure that their clients are improving, cared for and satisfied with their results. When Gene isn't working, you can find him enjoying martial arts training, reading, creating resin art.
What Gene's patients say about his care:
"Gene's calm, confident manner and level of expertise did a lot to ease my fears about investing my time and effort in physical therapy. His application of manual therapy was not rushed and very thorough, unlike a lot of physical therapists I've been to before, and his level of empathy and insight into my condition was really appreciated. A lot of the session was devoted to manual therapy which I really appreciated, as most PTs rush through a session with barely any hands-on work. The pain and my ability to move was immediately improved afterwards. Gene personally showed me a range of therapeutic exercises that fit my limitations and needs, which was great as some exercises are just not practical or are too painful to regularly use right away!"
He received his Masters of Science in Physical Therapy from the College of Staten Island. Before Gramercy Physical Therapy PC, Gene worked extensively in orthopedic outpatient care and at Beth Israel Medical Center in New York City. An experienced martial artist and former instructor, Gene is a black belt in Tae Kwon Do and gold medalist (New Jersey State Tae Kwon Do Champion, '07) who competed at the state and national levels (US Open, '07). Through his extensive martial arts training, Gene developed a profound appreciation of how effective and efficient compassionate, one-on-one physical therapy can be in recovery from both acute and chronic conditions.